Army Medical College
Army Medical College is one of the famous medical institutions of Pakistan. It has successfully achieved both national and international reputation in four decades. It is an exclusive combination of medical and dental scholars. Some of whom will pursue a career in the Army Medical and Dental Corps as authorized officers, and others will accompany pursuits anywhere inland and abroad. The Hallmark of this College is an integrated modular and futuristic academic program taught by hard-working and highly qualified teaching faculty.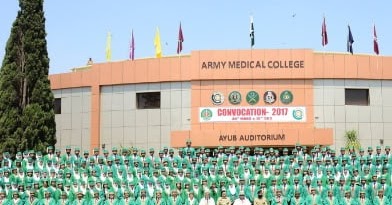 The college has a 
well-stocked modern library 
an innovative learning resource center
24/7 free high-speed uninterrupted Wi-Fi internet
well-equipped labs
and advanced teaching
modern training aids
spacious lecture halls
well organized co-curricular activities and many more. 
Vision and Mission
To encourage, guide, and enable education, research, and studying in an environment that esteems self-worth and intellectual analysis.
To provide the models, services, and physical surroundings to satisfy mental curiosity and knowledge needs in all the areas of medicinal disciplines that are components of the undergraduate and postgraduate curricula. ​
History 
Army Medical College got established at Rawalpindi in the year 1977 initially as a residential institution. This college initially got affiliated with Quaid-i-Azam University, situated in Islamabad. The affiliation was for the award of MBBS degree. The earliest batch of MBBS course included 100 students who graduated in 1981, and then the college was acknowledged by GMC-UK. It then became a fundamental college of NUST in the year 1998. After that, Bachelors in Dental Surgery (BDS) course also started during the same year. Soon, the college gained a unique distinction of granting postgraduate training (MPhil/Ph.D. and FCPS) in essential medical sciences since 2001.
Location of Army Medical College 
The College is situated in the cantonment metropolis of Rawalpindi. The twin towns of Rawalpindi-Islamabad get served by an international airport and are associated with the rest of the country through various means i.e., by rail, road, and air. The city experiences all five climates; winter, summer, spring, autumn, and monsoon. Vacation resorts like Murree and Abbottabad are not distant away from this city. Moreover, the Archaeological sites of Gandhara and Taxila are situated around 40-50 kilometers far from the city. The world's most extensive earth-filled dams of Tarbela and Mangala are also present here within a radius of 100 kilometers.
Departments in Army Medical College 
Anatomy department
Anesthesia department
Biochemistry department
Clinical pathology
Community & preventive dentistry
Community medicine department
Dental materials
Dermatology department
Ent department
Forensic medicine department
Gynecology/obstetrics department
Medicine department
Operative dentistry
Ophthalmology department
Oral & maxillofacial surgery
Oral biology & tooth morphology
Oral medicine
Oral pathology
Orthodontics
Orthopedics department
Pediatrics' department
Pathology department
Periodontology
Pharmacology department
Physiology department
Prosthodontics
Psychiatry department
Radiology (afiri) department
Surgery department
The Faculty
The College has empowered Fourteen Professors, Fourteen Associate Professors, as well as Thirty Assistant Professors as per the necessities of the Pakistan Medical and Dental Council. At present, Army Medical College is one of the most reliable medical institutes of Pakistan, having the most extensive qualified teachers both in fundamental Basic Sciences and Hospital Divisions. 
Extra-curricular activities
Drill
Physical Training
Games
Debates
Drama
Computer Club/Internet
Adventure Training
Eligibility Criteria for Getting Admission at Army Medical College 
Firstly, the applicants must evaluate themselves according to the guidelines to processed the admission procedure. Following is the criteria to get admission to this college:
The candidates must be greater than 17 years to 25 years of age.
The marital status of the candidate must be 'Unmarried' at the time of application.
The candidate must have certification in F.Sc. (Pre-Medical) or Comparable certification in any science subjects like Biology, Physics, and Chemistry.
The candidates must have more than 70% marks in both Matriculation and F. Sc results. They must also have Higher Secondary School Certification.
The applicant should have the nationality of Pakistan. Moreover, they should also have domicile of Gilgit Baltistan and Azad Jammu and Kashmir if they live in these areas.
Courses Offered by Army Medical College
This college administers the following programs:
Under-Graduate Programs that include MBBS & BDS.
Post-Graduate Programs including FCPS, M. Phil, and Ph.D., in several subjects that are related to medical sciences.
Army Medical College has not only focused on high-quality education but also personality building. It has also provided several opportunities to learners by creating a peaceful environment for them. It encourages students to interact with staff members too.
Under Graduate Programs
Post Graduate Programs
MPhil:
Anatomy
Biochemistry
Community Medicine
Haematology
Molecular Medicine
Pharmacology
Physiology
Science of Dental Materials
Ph.D.:
Biochemistry
Molecular Medicine
Physiology
Army Medical College Seats
MBBS Total Seats: 200
BDS Total Seats: 50
Army Medical College Fee Structure
Tuition Fees
Medical Cadets: Free of any charges
NUMS or Paying Cadets: 220,000 PKR yearly
Foreign Cadets: $12,000 annually 
Accommodation Prices:
 All students must pay 3,000 PKR monthly in terms of Accommodation expenses.
How to Apply for Army Medical College Admission
Method to Apply for this college is very simple and straightforward. You merely have to give the NUMS exam and then apply to get admission to this college. After the test, the entry form must be filled and fastened with a copy of the following documents:
CNIC
Result of F.Sc. (Pre-Medical or Comparable certification in any science subject like Biology, Physics, and Chemistry)
The result from any former degree (This is especially for M. Phil and Ph. D. applicants)
The form should get presented to the admission office of the college. Then, the subsequent step is to wait for the merit list. The date and time of the merit list display will get announced on public media or by email.
Admission Test
Following are the various categories in which the applicant can apply for Army Medical College Admission:
NUMS Cadet or NC
Medical Cadet or MC
Paying Cadet or PC
Foreign Seats
NUMS cadet and Paying cadet usually apply after giving NUMS test. On the other hand, Medical Cadet generally applies for Army Test. 
Selection Procedure
The selection procedure of Army Medical College is a bit longer, as numerous candidates are waiting to get admission here. For medical cadets, the selection procedure goes through the following steps:
Initial test
Intelligence Test
Medical Test
Physical Test
Personality Test
Interview